Our unique book on pre-Columbian pottery….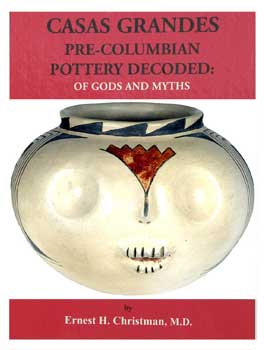 Casas Grandes Pre-Columbian Pottery Decoded: of Gods and Myths
by Ernest H. Christman
Publication in 2002
208 pages, hardcover
$85 list price, Web Special $65
8 ˝" x 11"
Illustrations: 1000+ color photographs
ISBN: 0-912329-16-5
LC: 2001116269
Special: Autographed by the author
Casas Grandes is the largest pre-Columbian civilization in northern Mexico with extension into Arizona and New Mexico. It dates between AD 1200 and 1450. It was excavated in 1958-1961 by the eminent archaeologist Charles C. Di Peso. He stated that the effigy pottery represented Mesoamerican gods. This book goes a lot further. It explains the symbols on 320 diverse ancient pottery pieces, representative of the Casas Grandes culture. There are more than a thousand full-color photographs. Also included are germane pottery from Mimbres and other neighboring cultures.
The book is formatted to facilitate understanding of various subjects inherent in indigenous Mesoamerican thought, including creation myths concerning gods, mankind, and the universe. Numerous deities within their pantheon are illustrated and portrayed. The pottery within can be appreciated for its inherent beauty as well as the meaning of the symbols as related to their culture and to other Mesoamerican societies as well. Maps and general overviews are included to abet understanding for both the general reader and specialist. There is an index and bibliography.
The author retired from medical practice a decade ago and has actively pursued solving the enigma of the symbols on Casas Grandes pottery. This book should generate interest among aficionados and collectors in a genre that archeologists had long considered indecipherable.
TABLE OF CONTENTS:
Map of Casas Grandes Archeological Zone
Introduction and History
Decoding Casas Grandes Pottery
The Gods of Casas Grandes

PART ONE: QUETZALCOATL
God and Myth
An Overview on Pottery
The Sun God
Parrot, the Connection
Quail, the Connection
Venus, the Connection
Snake, the Connection
Snake On Mimbres Pottery
Owl, the Connection
Fish, the Connection
Snake On Mimbres Pottery
Eagle, the Connection
Eagle On Mimbres Pottery
His Priests
Hooded Effigies Pulque, the Connection
The Concept of Precious
As a Water God
Guises, As Ehecatl, As Venus, As Milky Way,
On Bottles, As a Dog
His Animals, an Ocelot, Coyote & Mole
Diverse representations
The Mat of Authority, On Mimbres Pottery
Quincunx, On Mimbres Pottery
His Universe

PART TWO: TLALOC
Introduction
God of Mountains and Waters
The Tlaloque
The Sacrificed God
Tlaloc's Summit
Tlaloc and Frogs
Tlaloc and Turtles, on Mimbres
Tlaloc and Pulque
Waterways in the Underworld
Tlaloc and Lightning

PART THREE: TEZCATLIPOCA AND HUITZILOPOCHTLI
Tezcatlipoca and Huitzilopochtli, Comparisons
Tezcatlipoca, Description
Represented on Mimbres Pottery
Tezcatlipoca Sacrificed
Huitzilopochtli, the Warrior God
Metaphor for War
Huitzilopochtli and Dogs
Human Sacrifice
Symbols
Warriors on Mimbres and Nazca pottery

PART FOUR: THE EARTH GODDESS
Great Mother Goddess, Introduction
Ixcuina, The Goddess' Dual Nature
Xochiquetzal, Goddess of Sexual Power
Chalchiuhtlique, Consort of Tlaloc
Toci, a Sacrificed Goddess
Toci on Mimbres Pottery
Cinetol, son of Toci
Earth Monster, the Connection
On Mimbres pottery
Skybearers
World Created, the Connection

PART FIVE: CYCLES OF LIFE AND DEATH
Introduction
Ometeotl, the Creator God, and Creation
Calendars
Quetzalcoatl and Time
Xiuhtecuhtli, God of Fire
Mictlantecuhtli, God of Death
Cycles of Life and Death
Final Battle: Quetzalcoatl and Tezcatlipoca

CODA: PART SIX: DIVERSE POTTERY
Ramos Black Pottery
Double Bowls
Playas Red Pottery
Casas Grandes Plainware
Madera Black-on-red Pottery
Huerigos Polychrome Pottery
Escondito Pottery
Hohokam Pottery
Miscellaneous Shapes
*****
Epilogue
Notes on Header Subjects
Bibliography
Index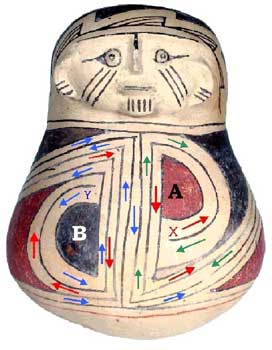 Illustration, page 15, showing the pathways of a hooded effigy piece depicting the sun god, Quetzalcoatl.
The Tutorial Press, Inc.
P.O. Box 11123
Albuquerque, NM 87192

Telephone: (505) 296-8636
FAX: (505) 296-8636